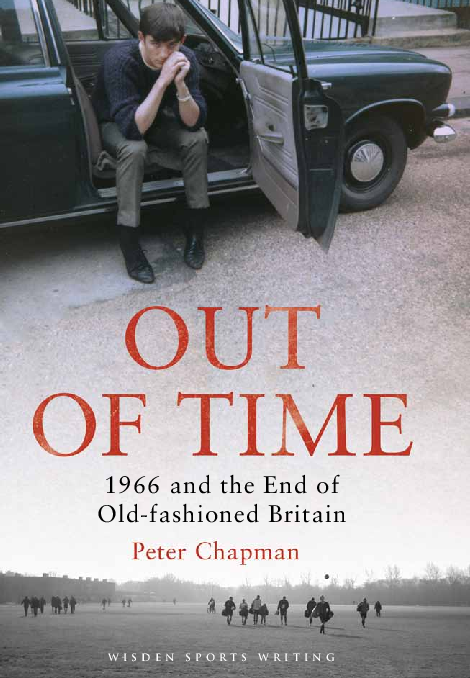 Out of Time - 1966 and the End of Old-fashioned Britain
Wisden/Bloomsbury, May 2016
Peter Chapman's wryly evocative memoir Out of Time captures the spirit of 1966 and paints a vivid picture of a young man, a football team and a whole country all trying to find their new place in the world.
On his 18th birthday and the day before the World Cup started, Peter Chapman, along with his parents and sister, was stranded in Dunkirk at the end of a continental holiday. He needed to be back in Britain for his first day at work but Britain's seamen had mounted the country's biggest strike since the Second World War. With the economy in collapse and the empire crumbling, Peter's own life was stuck too.
After three seasons in the Leyton Orient youth squad, his chances of being a professional footballer were fading. He had just failed his A-levels. He had also never had a girlfriend. As for the World Cup, it promised much as a spectacle but England's chances were generally thought non-existent. Against this backdrop, a teenager stepped out into the world little sure of what he or it would become now.
In a memoir of England's World Cup year, Peter Chapman writes of a time when Britain, football and everything changed.
"It is a book to read avidly from cover to cover." – Blackpool Gazette
An exuberantly brilliant memoir. There's a way we football fans have of clapping with our hands above our heads. There are many passages in Peter Chapman's book - even single sentences - that make me want to do just that in sheer admiration. For good measure, perhaps I'd throw in a cheer and an expletive of delight, too." – Adrian Chiles, The Tablet
"Excellent" – Choice Magazine
"Out of Time describes with charm and self-deprecating humour the attractions of sexual fumbling, holidays abroad, the London music scene, Chinese food and much else. But this joyous book, a memoir of late adolescence laced with social and football history, is also a catalogue of both the untidiness and the limits of change, and a reminder that even in London opportunities were circumscribed and aspirations often throttled." – Financial Times
"I loved it … brings the year vividly alive." – Jim Crace
"Out of Time is a gentle and affectionate portrait of the capital's gradual awakening to the charm of pop culture at that time." – The Economist
"The most enjoyable of these books" – Richard Williams of The Guardian in his review of the new season's books. "Chapman is a good on the background - a post-war childhood and adolescence, with bomb sites all around - as he is on the football."
"Need cheering up after England at 2016? @Phil_Football chooses @Petetweets1 to do trick" – Philosophy Football